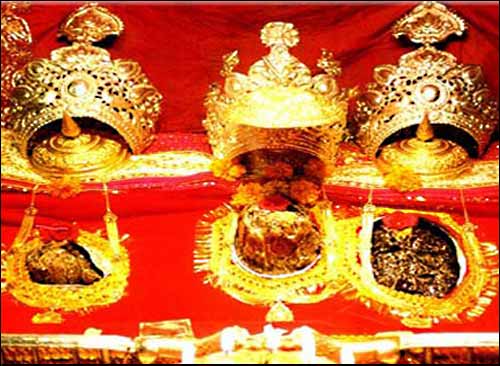 Jay Mata Di
This is the three words which can give you 'shakti'(power) to win the three worlds. It means I wish all the best to the almighty mother and also herewith praising her glory. It is believed that Mata becomes happy with this slogan. This slogan can be uttered for any mother deity like Saraswati, Laxmi, Samaleshwari, Kali, Tarini, Pataneshwari, Sureshwari, Durga, Tara or any other Goddess but mostly it is said for Vaishno Devi Maa in Trikuta Mountains in the state of Jammu of India.The original Hindi slogan is Jay Mata Ki which bears the same aforementioned meaning. But as this area is dominated by Punjabi Language and in Punjabi 'Ki' of Hindi is said 'Di'. Hence it is called Jay Mata Di or Jai Mata Di or Jay Mata Ki, however the meaning is the same.
One need to start walking from Katra to have a Darshan of Baishno Mata. The distance is 14 kms. Also carrier like horses, Palqin are available most of the people love to visit by walking. The atmosphere over there is very much spiritual. People love to sing, utter and chant mainly this slogan Jay Mata Di during the journey. It gives strength, pleasure, joy, enthusiasm and above all blessings of Mata. One can also greet other pilgrims by saying Jay Mat Di. No body will be disturbed rather they will be happy.( But please don't misuse this words any day to trouble or bother visitors/pilgrims and don't take advantage of having a slogan with you by which you can start talking to others).
It is a popular belief that those devotees only can have a darshan of Mata Vaishno whom Mata only calls and invites. In Hindi it is called 'Bulawa' (invitation). Please don't misunderstand this thinking about whether I have been invited or not. Like our living human mother Mata also loves to see all Her kids around her.So She invites everybody. The next move is expected from us, we decide to go for a darshan of Mata and She makes all the arrangement. It is felt by many.